This week marks the tenth anniversary of the inaugural meeting of the Open Source Hardware User Group (OSHUG). As such it seemed only appropriate to take a look back over the past decade at not only the history of OSHUG, but some of the history and the future of open hardware also.
Setting the scene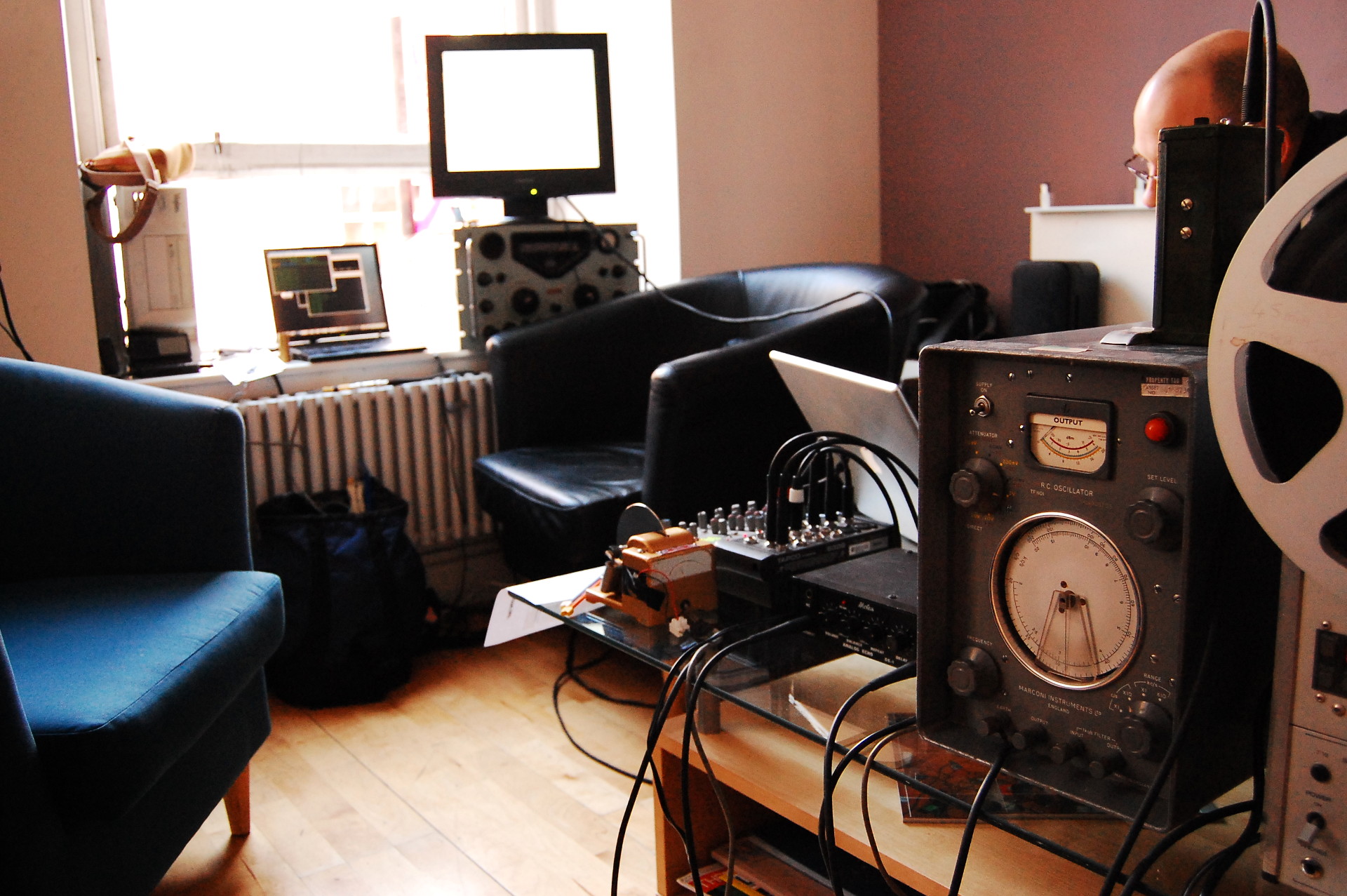 The Electron Club hackerpsace, Glasgow, 2008.
Let's begin a little earlier and around 12-13 years ago. My own introduction to open source hardware — note that I will also use open hardware interchangeably and to mean the same thing — came in 2007/2008 via two different routes. The first of these being a fellow co-founder of Glasgow hackerspace, the Electron Club, who was excited at the artistic possibilities presented by the new Arduino platform. The second was a BT Osmosoft colleague who spotted the recently announced Bug Labs hardware and said, "Hey Andrew, this looks like it might be your sort of thing!"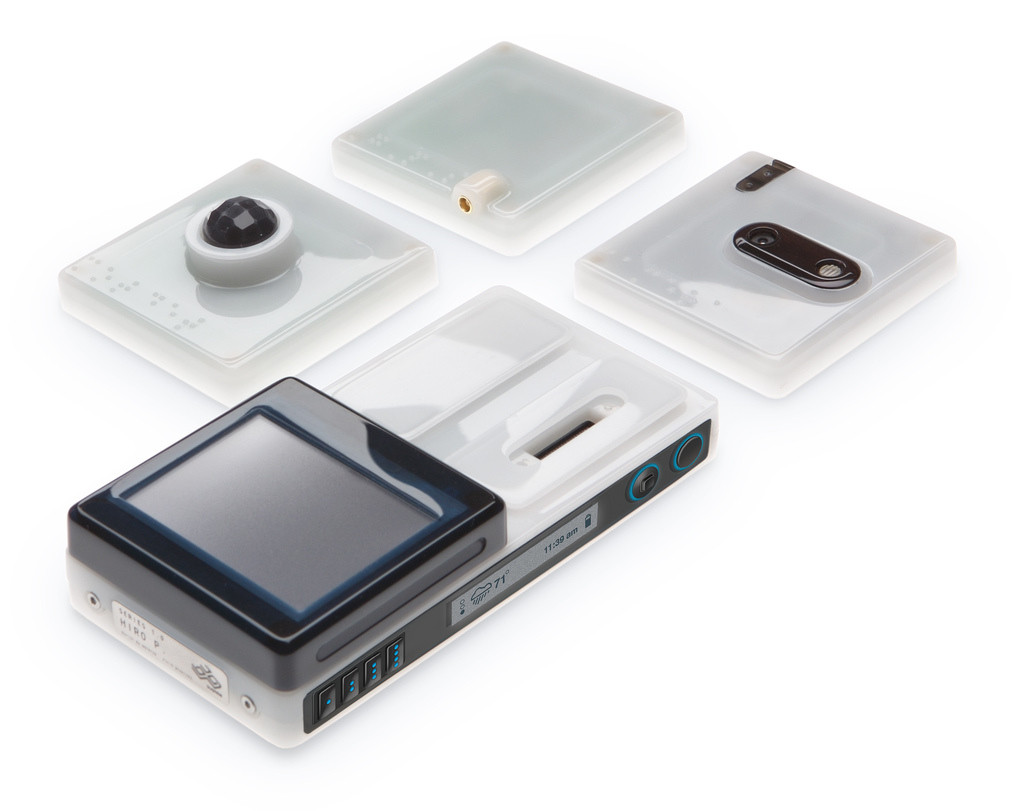 Bug Labs modules — © Bug Labs Inc., CC BY-SA 2.0.
Bug Labs are still around today and it appears their focus shifted from hardware to services. Of course, the Arduino story is well known and for many years it served as the open hardware poster child. What followed next, at least in the most visible sense, was a burgeoning ecosystem of relatively simple board designs — such as breakout modules for surface mount devices, along with Arduino compatibles and add-ons. There was a growing movement and this was focused mostly around microcontrollers and the enthusiast market. Simpler designs, but nevertheless important.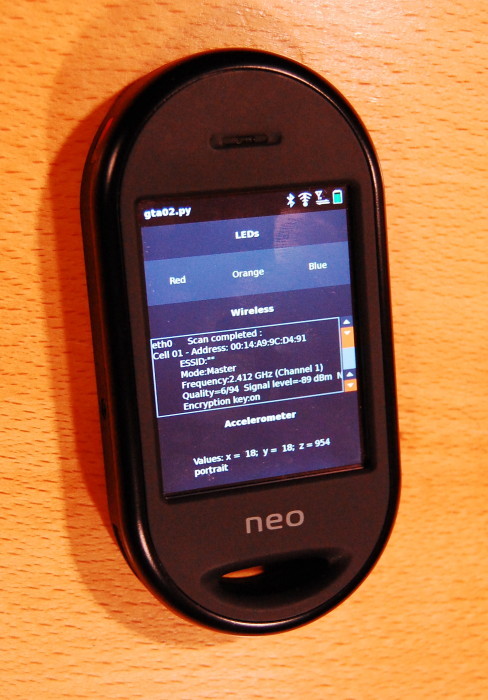 Openmoko GTA02.
At this point it would be remiss not to mention two notable exceptions. The first of these being Openmoko, which set out to create a family of mobile phones with an open hardware specification — schematics and mechanical CAD files were provided — and open source O/S. Also another consumer electronics product, the Chumby, an embedded computer with a touch screen and WiFi.
In addition to which, Elphel had been quietly producing open hardware and free software powered video cameras for some time. Notably also there was OpenSPARC from Sun and the grassroots open silicon community, OpenCores, together with its flagship project, OpenRISC. These and other early open silicon efforts are covered in more detail in Gareth's article, Digital FOSSils.
OSHUG #1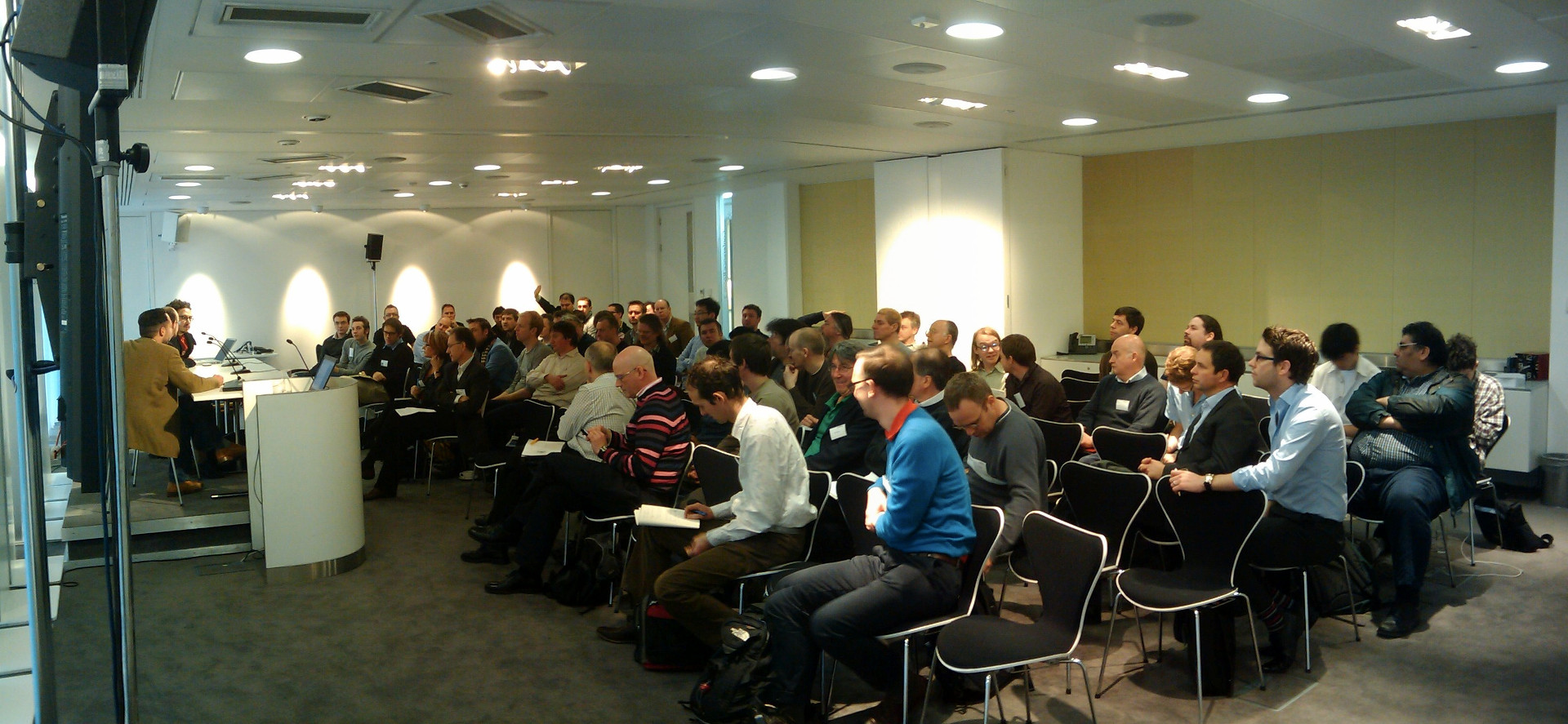 Nesta Open Hardware Conference — © Paul Downey, CC BY 2.0.
The nascent open hardware movement had started to gather momentum and in December 2009, Nesta, the UK based charity and innovation foundation, hosted a one day event dedicated to the topic. This served as a pivotal moment for many of those of us who attended and one outcome of this being the formation of the Open Source Hardware User Group.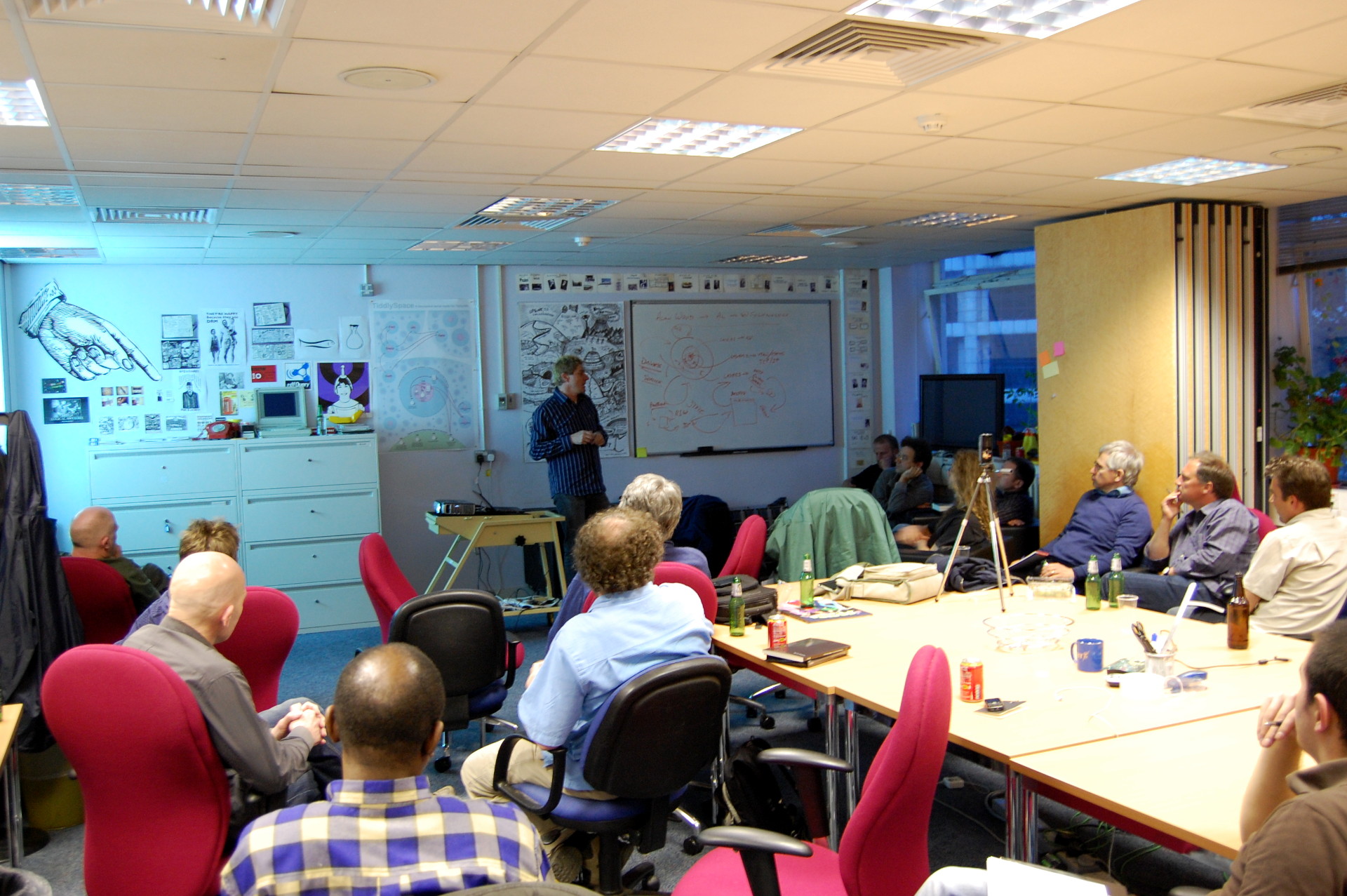 The first OSHUG meeting, April 2010.
OSHUG was co-founded in early 2010 by Paul Downey, Alan Wood and myself. Inspired by the Nesta event and also encouraged by UK semiconductor company, XMOS, which had decided to publish its development board designs as open hardware.
Fortunately, Paul and I both worked for BT's open source innovation unit, Osmosoft, where community events were part of its remit. So on Thursday 29th April 2010 we hosted the first ever OSHUG meeting. For this we were honoured to have Professor David May — architect of the Transputer and then CTO of XMOS — present.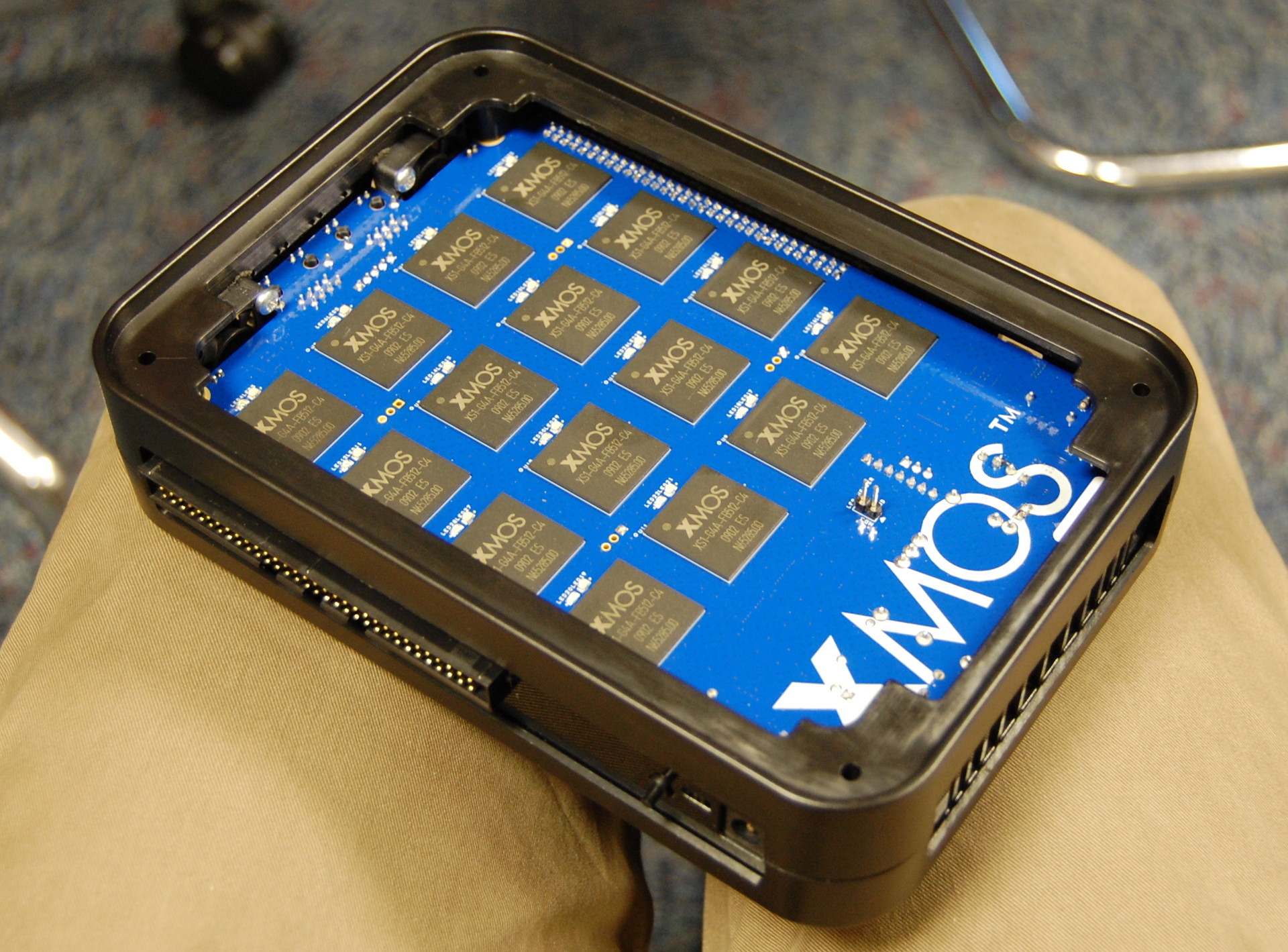 XMOS XMP-64 development board with 16x quad-core device, OSHUG #1.
We decided from the outset that, although the focus would primarily be hardware with liberal licensed design artefacts, we would also encourage talks on related topics, such as embedded development, along with tools and techniques employed in hardware design and manufacture. A policy which has served OSHUG well and led to an ever interesting mix of topics.
A community grows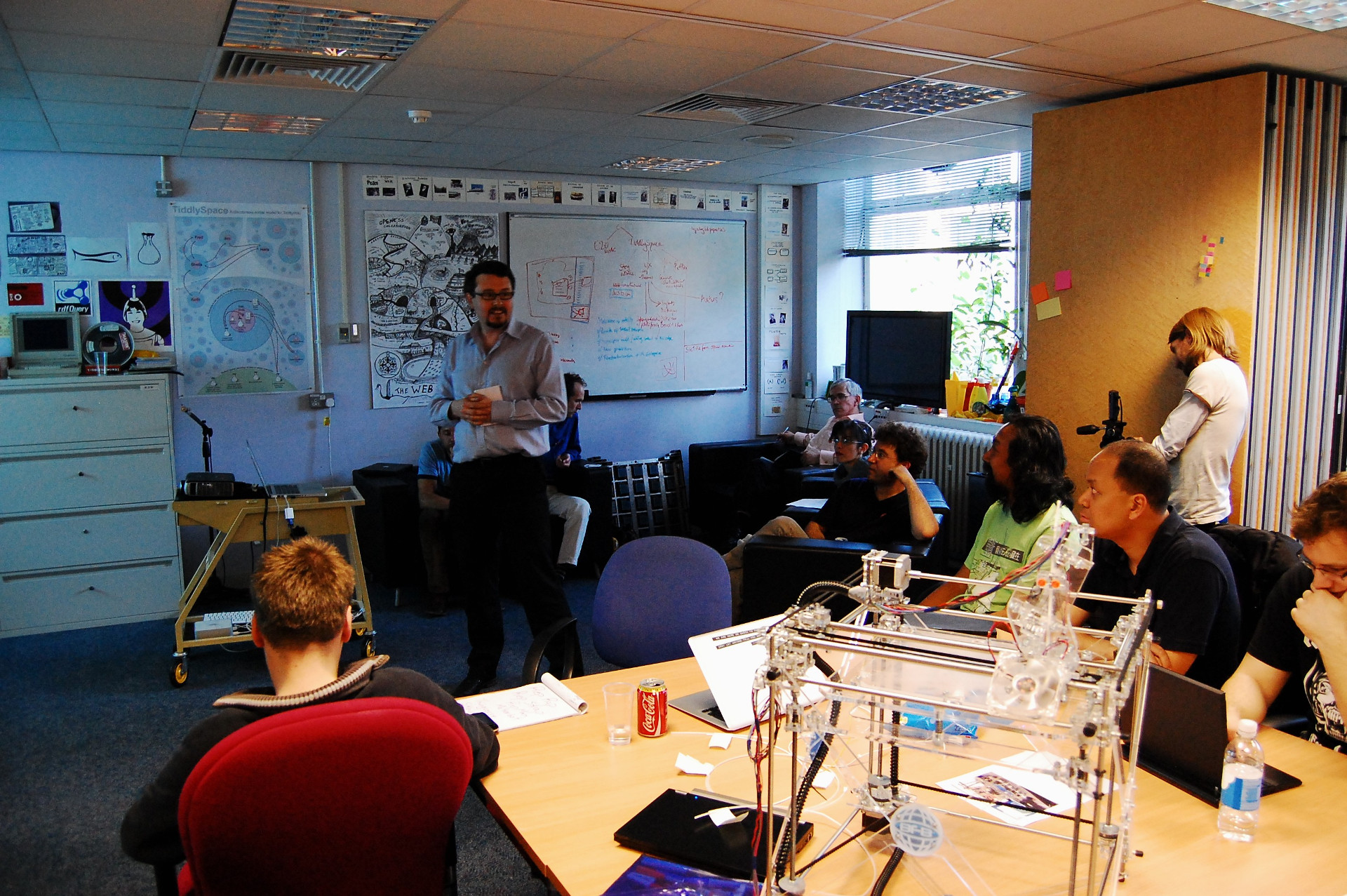 Free and open source software is mainstream. Free and open hardware isn't. OSHUG #2.
The first few meetings really enabled the group to establish itself and this wouldn't have been possible without the support of BT Osmosoft. Themes explored included licensing and community, along with topics such as software-defined radio and FPGA development. For the sixth meeting we were hosted by London Hackspace and for the seventh the BBC, which featured talks on the BBC Computer Literacy project — which gave birth to the BBC Micro — and Domesday project.
The eighth meeting was the last that was held at the Osmosoft offices (the security arrangements at the Westminster telephone exchange we occupied were… tricky).
For the ninth meeting we were kindly hosted by Skills Matter. This featured an introduction to FPGA programming from Omer Kilic, a talk on OpenCores and OpenRISC from Dr Jeremy Bennett, and Lawrence Wilkinson gave a talk on emulating an IBM System/360 mainframe in FPGA.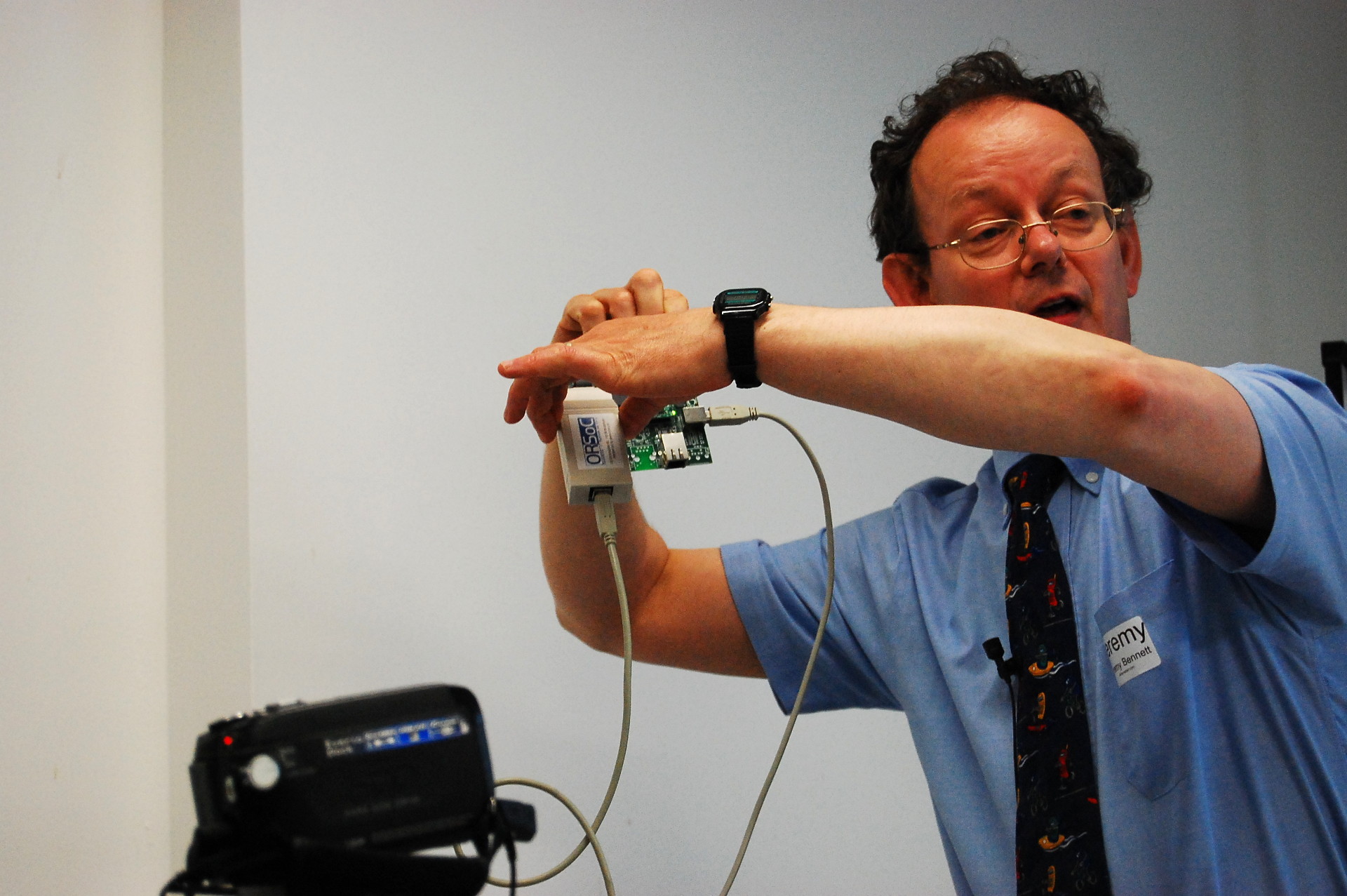 OpenRISC demo, OSHUG #9.
For the next few years, the now much missed, Centre for Creative Collaboration in Kings Cross became our home.
We also had an outing to the University of Kent, courtesy of Omer Kilic, and in October 2011 we held our first ever Open Source Hardware Camp (OSHCamp). This featured 3D printing and IoT workshops, along with an exploration of collaboration in open source hardware.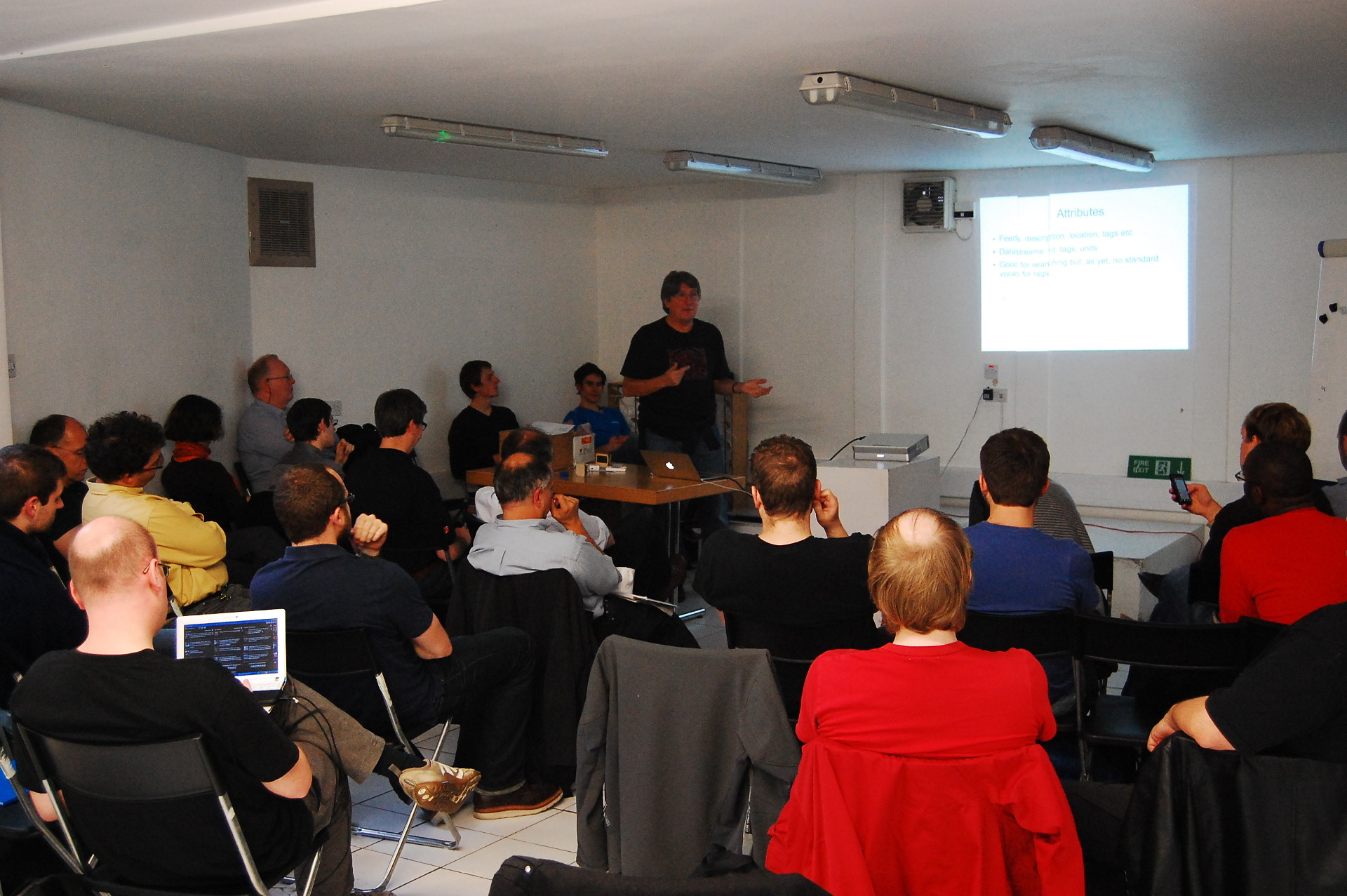 Open Source Hardware Camp 2011.
The 29th meeting was the first hosted by the BCS and in partnership with its Open Source Specialist Group (OSSG). At this we had a talk on the RepRap 3D printer, from its creator, Dr Adrian Bowyer. For the next meeting we were hosted by Erlang Solutions, before returning to BCS London, which then became our new home and continues to be up until the present day.
Many events later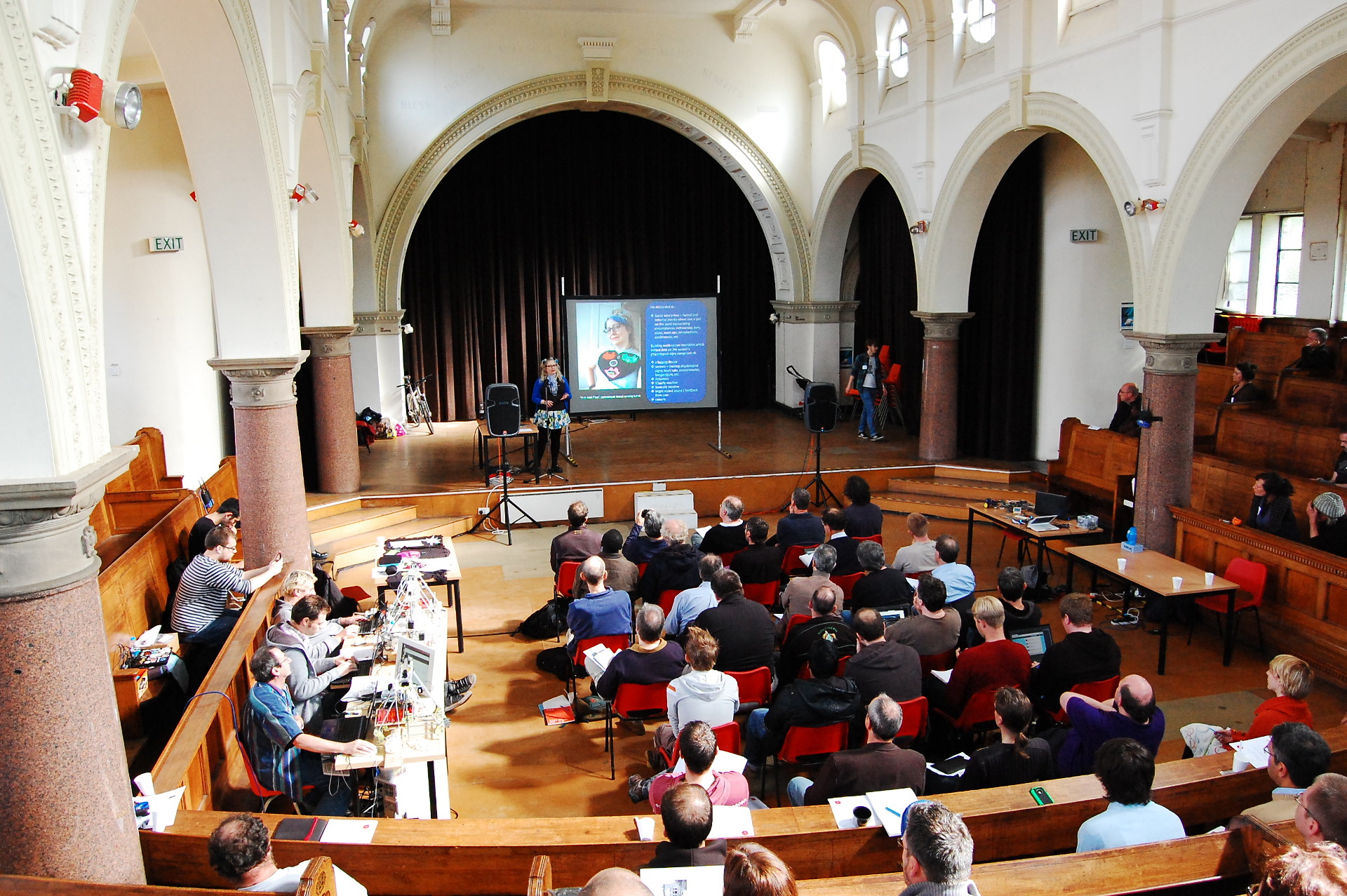 Sensing Wearable Technology, OSHCamp 2012.
Early 2011 I relocated to the north of England and then travelled to London for OSHUG events. However, I also managed to persuade the group that we should host the next OSHCamp in Hebden Bridge — after an initial response of, "Where?!" This turned out to provide a perfect setting for a weekend of talks and workshops in more relaxed environs, with plenty of opportunity to socialise.
Building GSM Networks workshop, OSHCamp 2012.
Over the years and now that we're up to 80 events in total, OSHUG has seen talks on an incredibly diverse range of topics related to open hardware; FPGAs, chip design and verification, wireless, education, music, security, privacy, performance, tools, compilers, EMC, design for manufacture, automotive — and more. Not to mention also hands-on workshops covering a wide variety of topics, including software-defined radio, machine learning and Internet of Things, for example.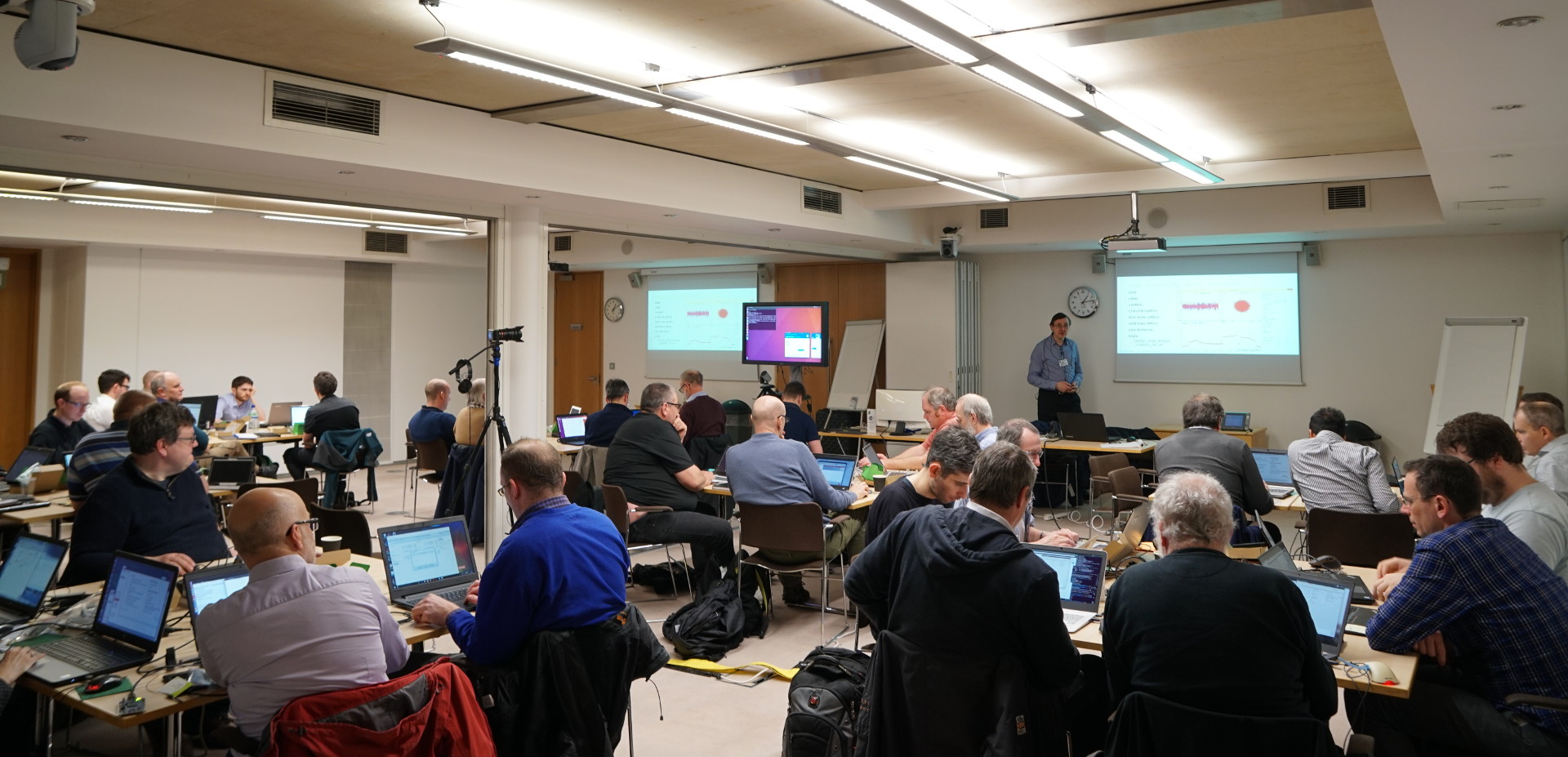 Introduction to software-defined radio with LimeSDR workshop, OSHUG #56.
Regular evening meetings continue to be hosted by BCS and held in partnership with OSSG. A special thanks to Professor Cornelia Boldyreff and Dr Jeremy Bennett for their support.
OSHCamp takes place annually — although perhaps not this year… — and in addition to being hosted in Hebden Bridge, was held in Lincoln in 2018, with thanks to Sarah Markall for making this happen. A special thanks also to Alan Wood, Ken Boak, Omer Kilic and Paul Tanner, who together with Jeremy Bennett have compered and presented at many OSHUG meetings.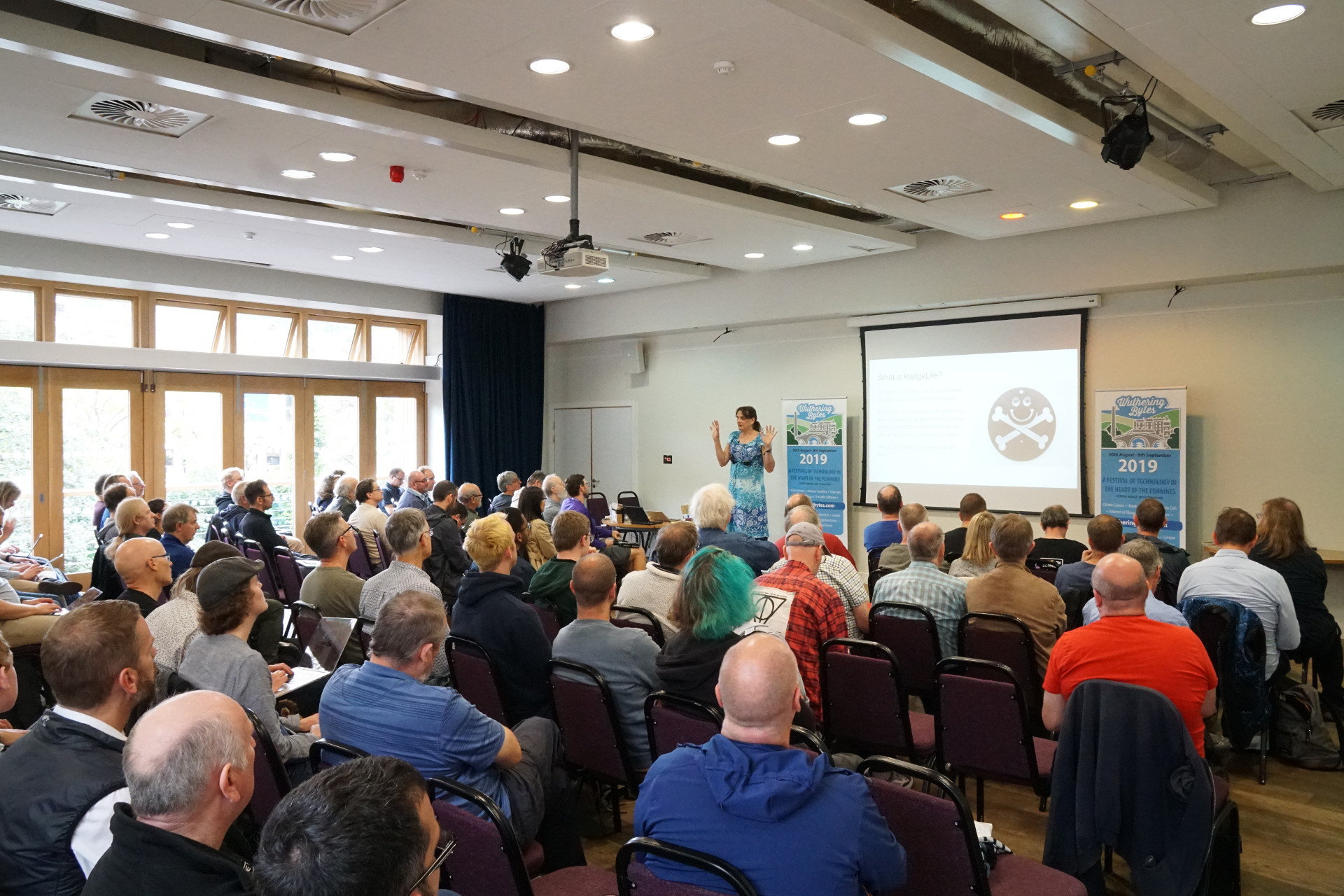 Saving Your Electronic Conference Badge From A Life On The Shelf, OSHCamp 2019.
Having been convener and main event organiser for the first 6 or so years, regular monthly events are now organised by Sevan Janiyan and Andy Bennett, who do an excellent job with programming. I continue as the main organiser for OSHCamp and look forward to its return in 2021.
Next I'd like to take a look at wider advances in open hardware, the present day, and the future.
Progress made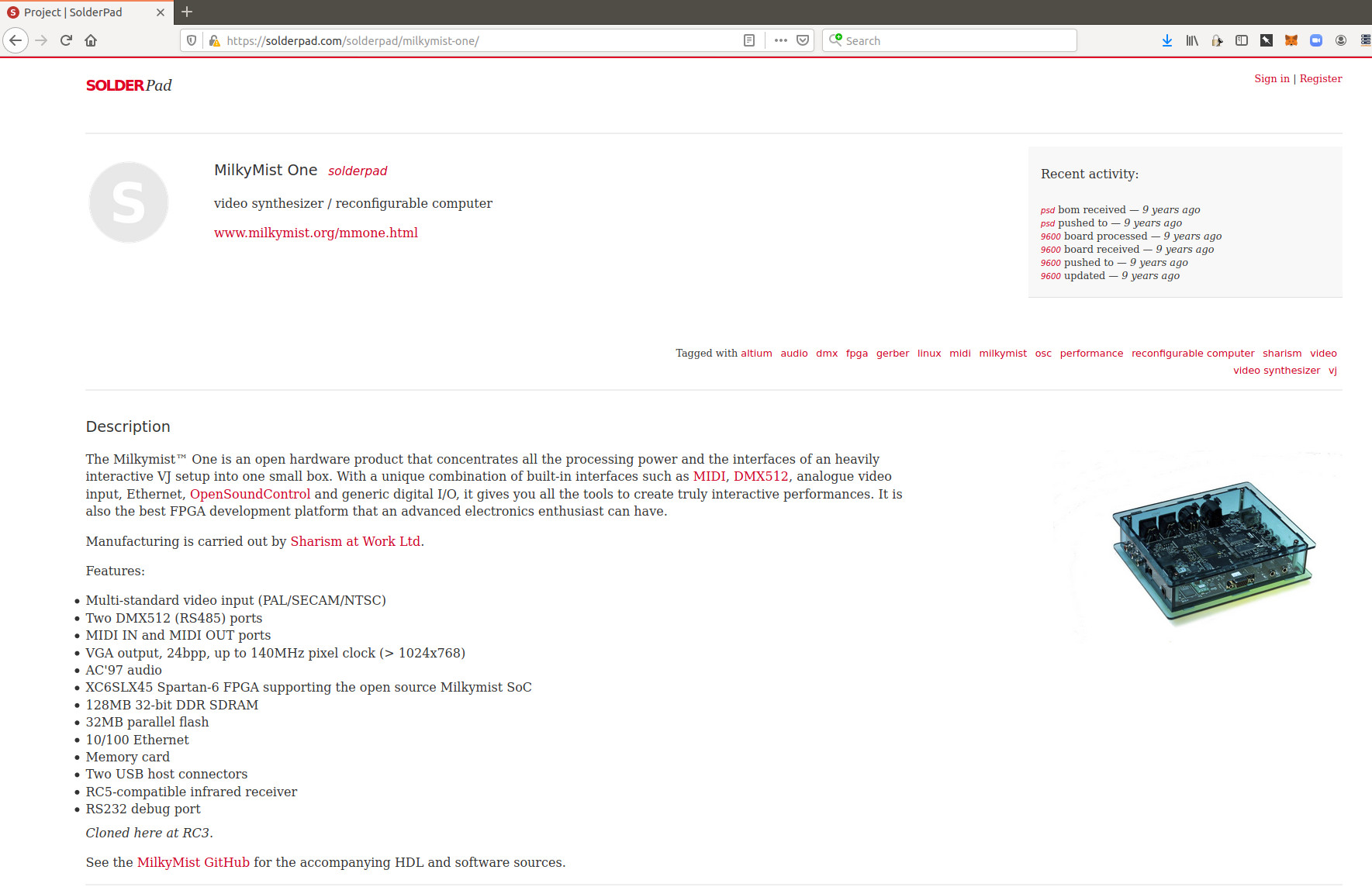 Solderpad, an early attempt at online collaboration for PCB design.
Go back ten years and most activity was focused around PCB designs, with the majority being relatively simple. Collaboration was a hot topic, but wasn't easy and remains far more difficult than with software; different design tools and minimal interoperability continuing to present a challenge, in addition to which the processes involved just aren't the same as with software. Hence designs are typically completed by one person or a close knit team and published when complete, or perhaps a little earlier in order to provide opportunity for external design review.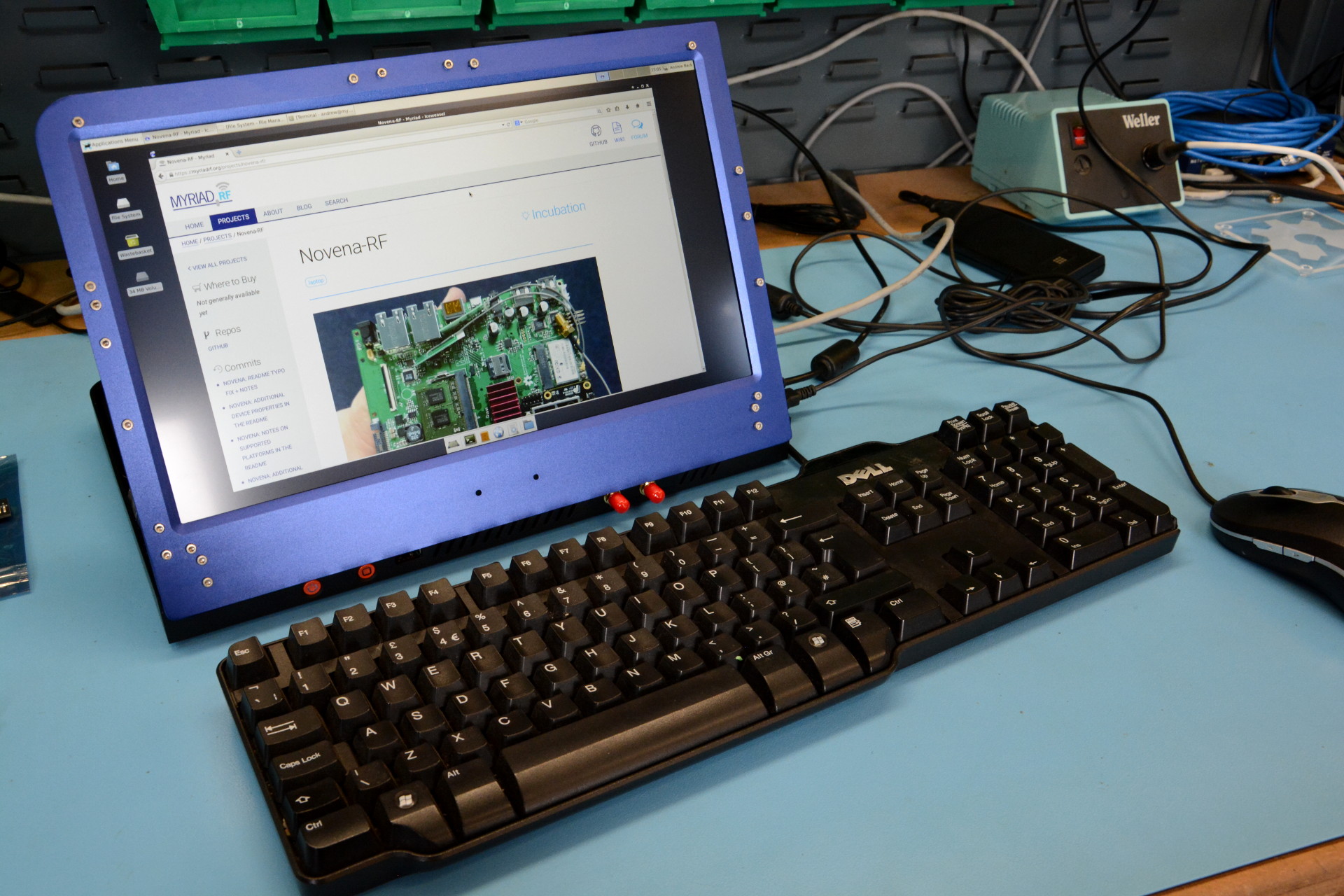 The Novena open hardware laptop.
While collaborative PCB design hasn't taken off, we have seen increasingly advanced open source hardware designs, such as the Novena laptop and LimeSDR family of software-defined radios, along with ever more capable FPGA development boards. That these may not be developed in a collaborative manner — as is often (but not always!) the case with open source software — is not an issue. Rather instead it's just a simple fact of the development process and factors involved.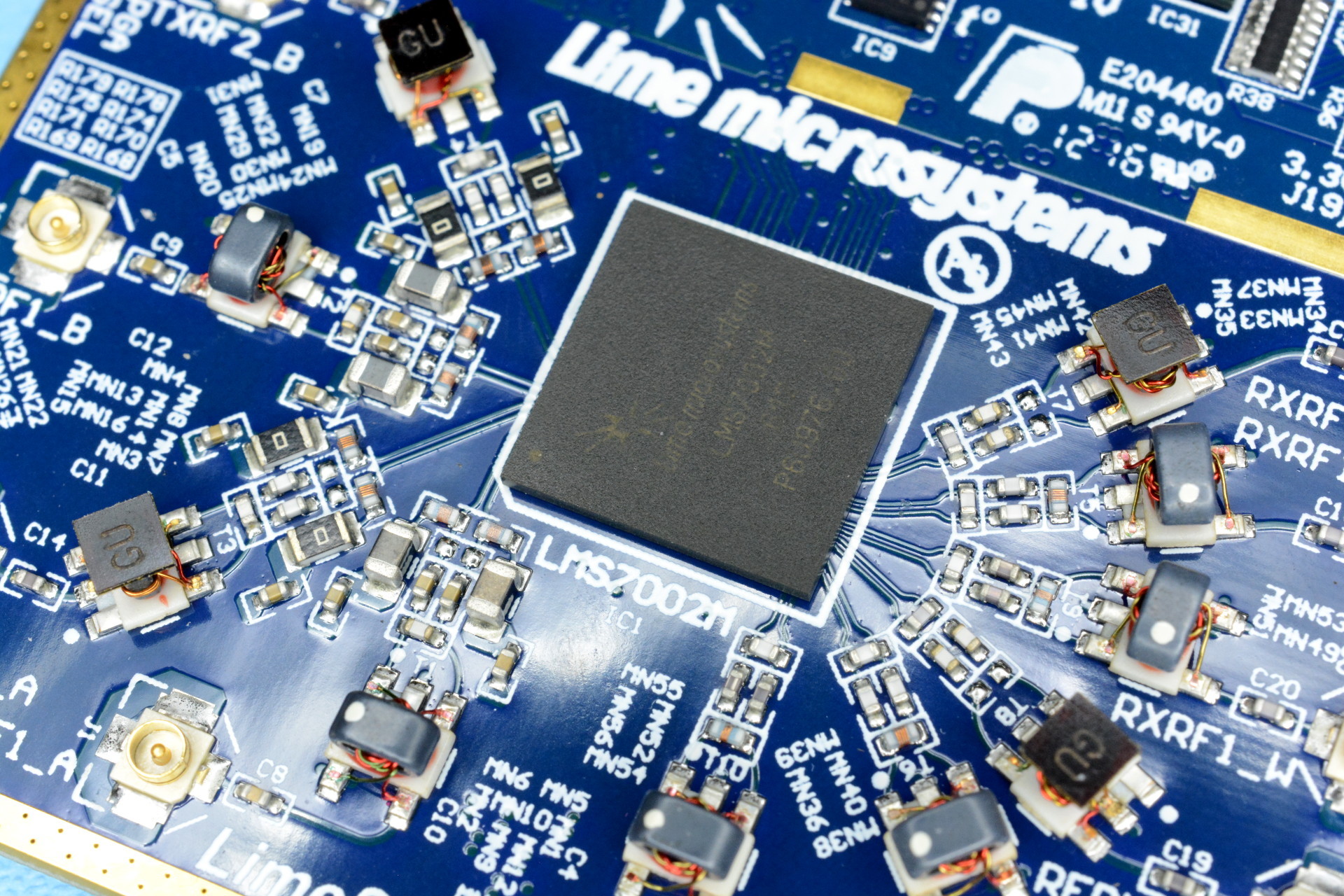 Detail of the LimeSDR wideband MIMO software-defined radio.
As we saw at OSHUG meetings and in the wider community, open hardware is by no means limited to electronics and PCB design. For example, the RepRap 3D printer and Global Village Construction Set involve significant elements of mechanical design. However, such projects are comparatively small in number and mech design has similar challenges to PCB design.
Over the past ten years we've seen the proliferation of hacker/maker spaces and the Raspberry Pi — even though not open hardware itself — has had significant impact in terms of getting more involved people hands-on with electronics; the community continues to grow and mature. In addition to which, there have been numerous advances in open hardware licensing and improvements in FOSS tooling.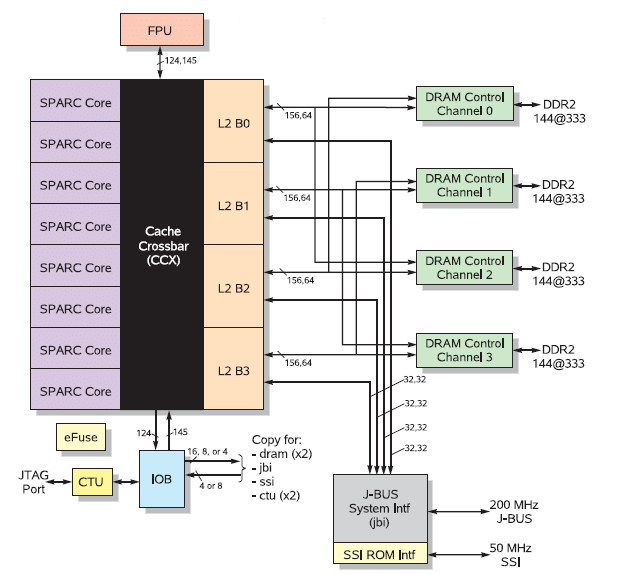 Sun OpenSPARC T1, image source.
Sun made a remarkably bold move with OpenSPARC and open sourcing the T1 core in 2006. However, an FPGA board capable of hosting the design would have set you back quite a bit and it had few users outside of academia. There was also the OpenCores community and, as noted in Digital FOSSils, OpenRISC found its way into a Samsung digital TV SoC, amongst other uses.
Although, generally speaking, FPGAs and digital design were seen as complex and/or difficult. In part because the skills required are less common than software development, with many in the early open hardware community being "crossover software developers", self-taught and/or enthusiasts. This is something that Chip Hack set out to address, with the first event hosted in London in 2013, a second in Cambridge in 2014, and then a much larger event in Hebden Bridge in 2017.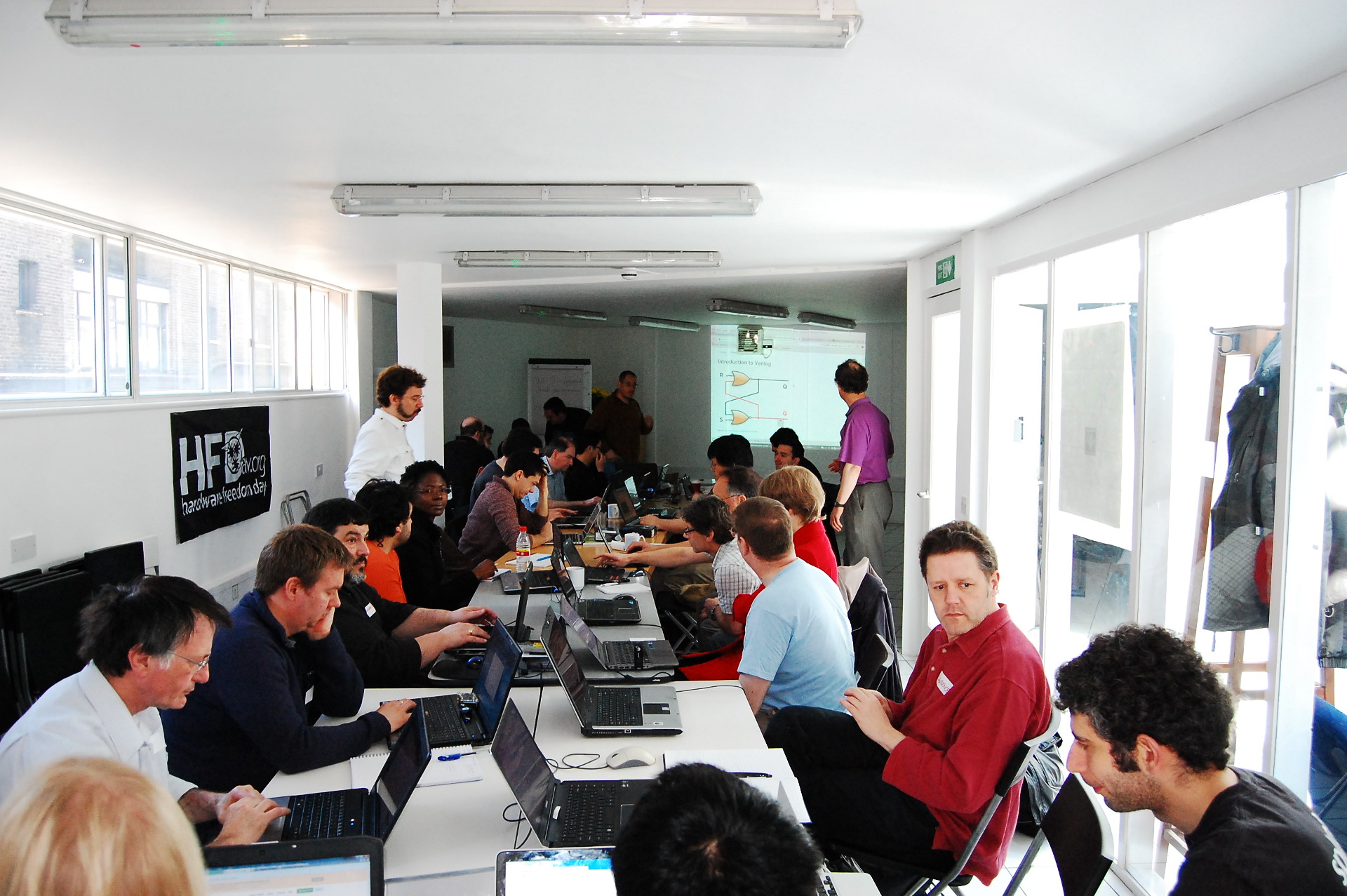 ChipHack 2013.
Meanwhile FPGA development boards have continued to become cheaper and more powerful, with a constantly growing enthusiast community, in part as a result of this and perhaps also while looking for the next challenge.
Of course, open hardware is now also gaining serious traction in the semiconductor industry, which is something that I'll come to later. Meanwhile there have also been groundbreaking advances in tooling — which is a topic for another day.
The present day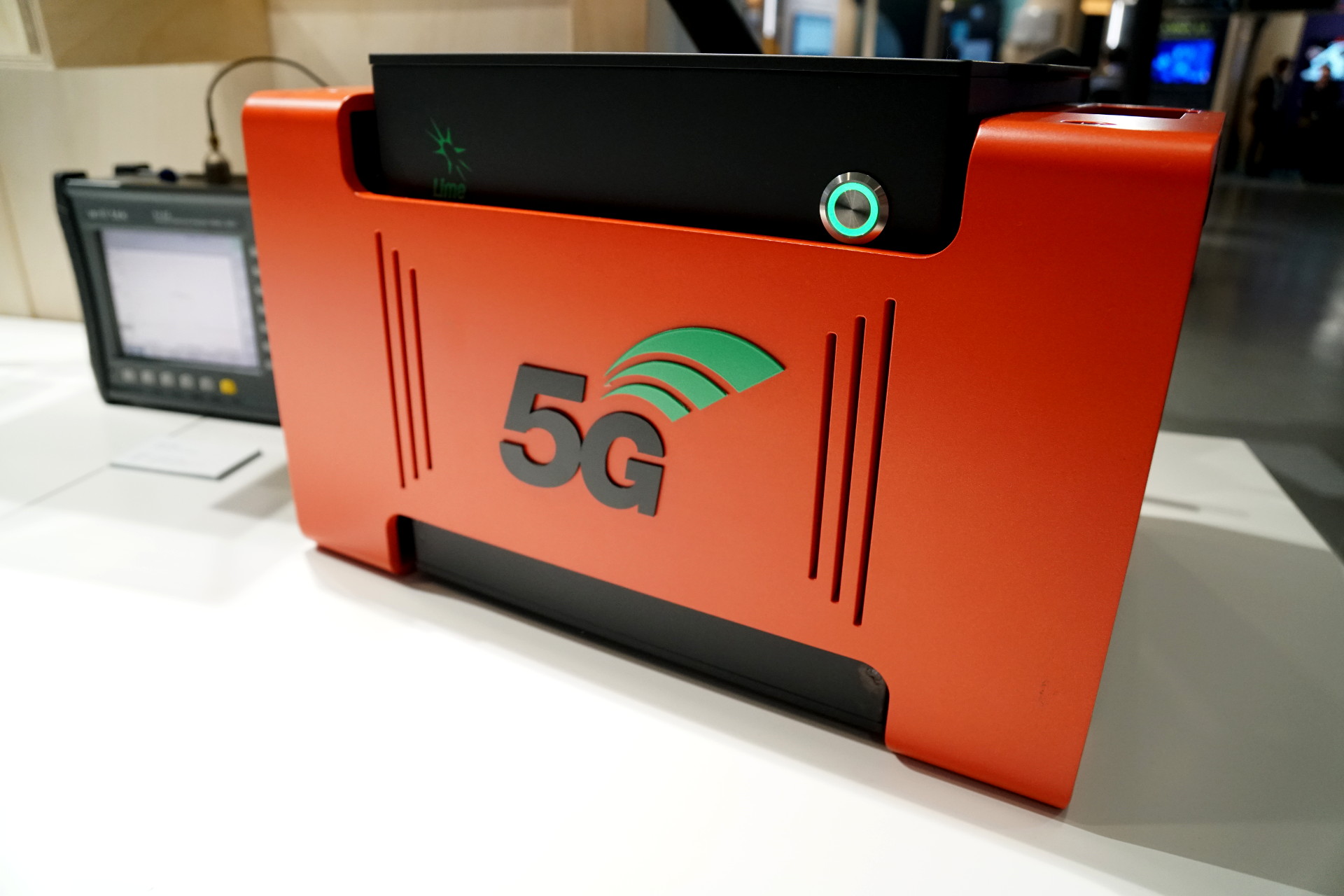 A LimeSDR powered 5G NR base station at TIP Summit 2019.
At the time of writing, over 12,000 LimeSDR boards have been shipped to developers and while this figure is much lower than it would be for, say, Arduino, it is impressive for an advanced design of its specialist nature. The open hardware design has also enabled derivative designs, such as one that has been integrated into a cubesat. Furthermore, its impact in industry is now being seen as the LimeSDR platform is at the heart of the CrowdCell developed via the Telecom Infra Project. In addition to being integrated into third party solutions and being used as the basis of new designs.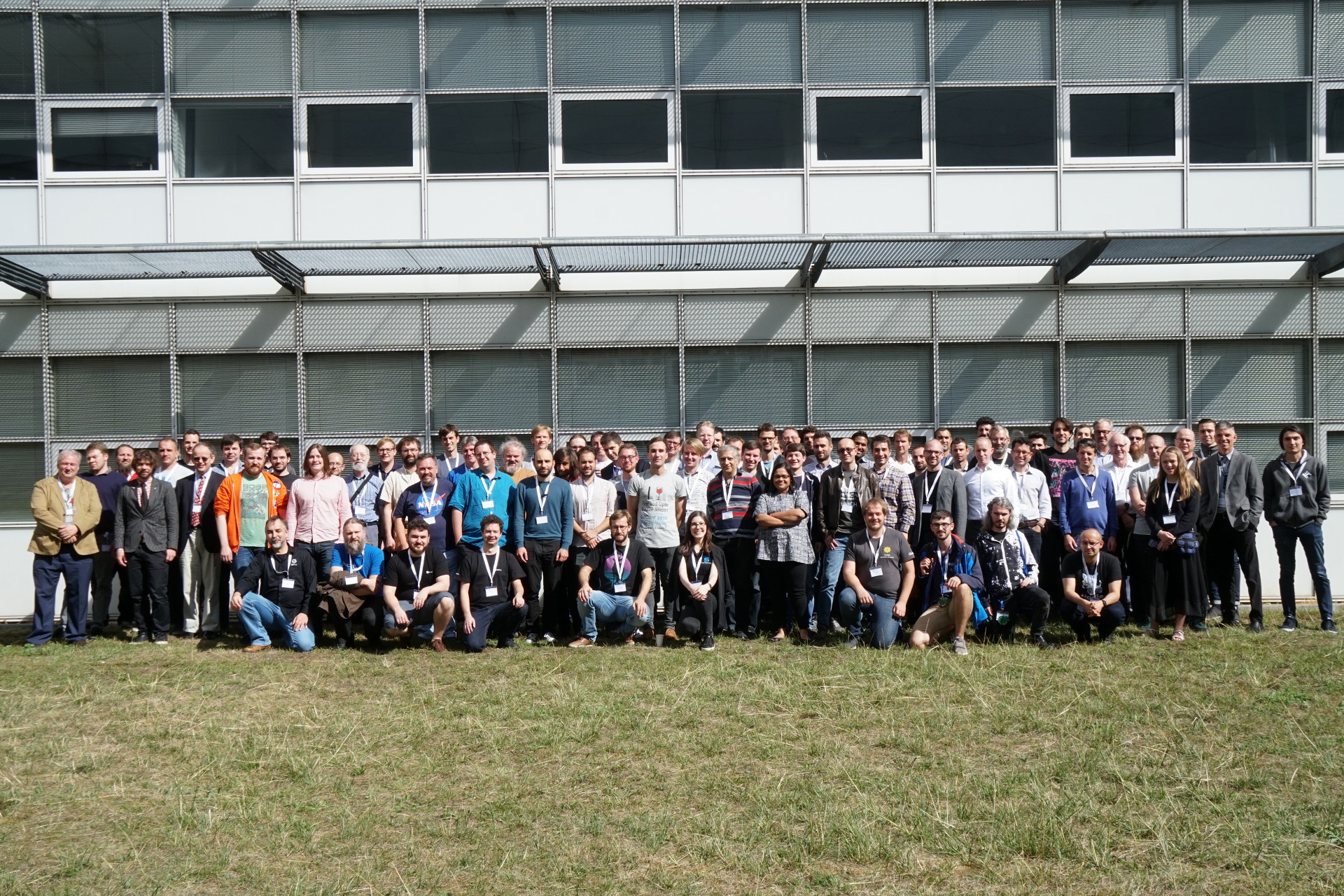 ORConf 2019 delegates.
The Free and Open Source Silicon Foundation has been hosting packed out conferences for a number of years now, with delegates and speakers from across industry and academia. The foundation also participates in Google Summer of Code, hosts LibreCores, is home to a number a projects and workgroups, and produces a monthly newsletter with a steadily growing readership.
The advent of the RISC-V open ISA clearly acted as a catalyst and has generated a groundswell in interest in open silicon, with other ISAs also now starting to follow suit, such as OpenPOWER.
Interview with Professor Krste Asanovic, ORConf 2015.
Although gathering pace in more recent years, RISC-V can trace its history back to 2010 and what we're seeing now is the result of the multi-year efforts of the founders, contributors, sponsors and, of course, the RISC-V Foundation and its membership. While at the same time being able to take advantage of the earlier work of the OpenCores community, whether utilising an i2c core or some other simpler IP, or just benefiting from an established community and its learning experiences.

Fragment from the SiFive Freedom U540 device tree source, © 2018 SiFive Inc.
More recently the CHIPS Alliance was set up under the auspices of the Linux Foundation and has workgroups focusing on the Chisel HDL, RISC-V Rocket chip generator, cores, tools and interconnects. We also have the OpenHW Group driving collaborative development of open source cores, related IP, tools and software. This boasts an impressive membership and has 32-bit microcontroller and 64-bit Linux capable core designs, with more to come.
To say I've barely scratched the surface of open silicon would be a serious understatement. I've purposely not mentioned companies and, where possible, specific projects, since these are both topics that I couldn't do justice here and will save for future posts. Similarly with tools, where there have also been major advances and it would be better to cover these separately.
Looking to the future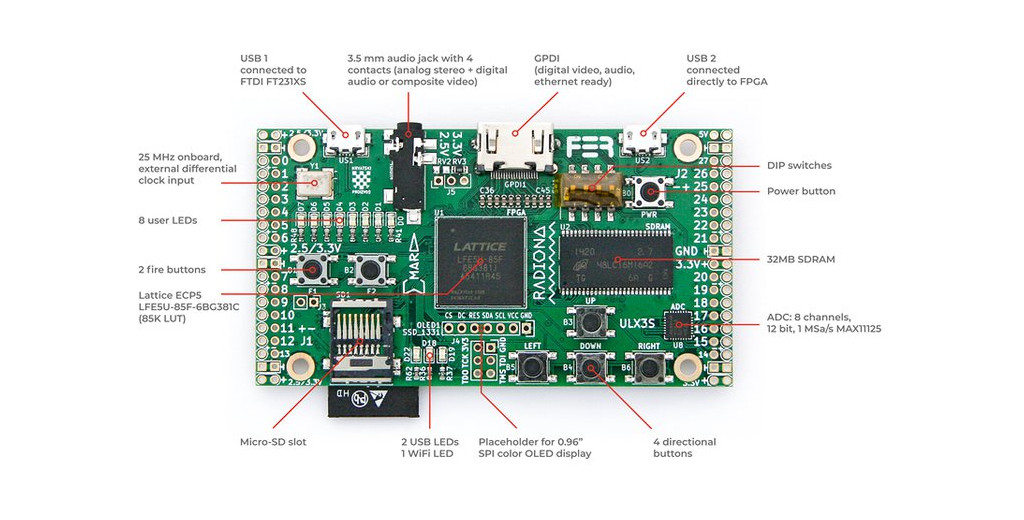 The ULXS3 FPGA board from Zagreb Makerspace is supported by a FOSS toolchain and capable of booting Linux via a RISC-V soft core.
I believe that we will continue to see more and increasingly advanced board designs, both from industry and the wider open hardware community. The benefits are clear in terms of education, technology transfer, establishing plarforms and expediting innovation, for example. Not to mention enthusiast and professional engineers alike continuing to up their "spare time" game.
Meanwhile the wider community continues to grow and whether identifying as being part of the open hardware movement, a maker, an electronics hobbyist or a Raspberry Pi enthusiast, this all contributes to more people getting hands-on with electronics.
Ten years ago it would have been impossible to predict the size of the opportunity that would be presented by free and open source silicon (FOSSi). Since digital designs generally start out with a text based hardware description that might look like, or even be based upon, a programming language, in hindsight this may now seem blatantly obvious. After all, it means that a lot of the tooling and processes from software development can be reused.
However, the semiconductor industry was seen as being particularly conservative, making use of eye-wateringly expensive tooling under strict NDA, with fabrication costs of millions of dollars. As with so many things, this was true in part and with some measure of misunderstanding. This aside, the benefits of open silicon are now becoming abundantly clear and certainly in terms of processor and SoC design at least, where the environment has changed in ways that very much favour shared infrastructure and reuse; the death of Moore's law, coupled with growing demand for custom silicon for wireless, security, machine learning and IoT, all being typical drivers.
In short, there is a bright future ahead for open silicon.
In closing I should note that many important developments and projects will have been omitted. This post is already much longer than originally intended and there is plenty more to be covered via future posts. This is also partially a view through the lens of the Open Source Hardware User Group, with the original idea being to mark ten years since the first meeting.
Andrew
Featured (top) image: DDC Rx board from HPSDR, OSHUG #5.