On October 29th 2020 SiFive announced the first-ever RISC-V Linux development platform with a PC form factor, the HiFive Unmatched.
A few weeks back, SiFive announced its new Freedom U740 RISC-V SoC architecture. Furthermore, they even confirmed plans to create the first-ever RISC-V PC for developers based upon this.
After the success of HiFive1 and and HiFive Unleashed, it was time to launch HiFive Unmatched. Just like the name says, "Unmatched", it is currently the world's fastest native RISC-V development platform. The HiFive Unmatched will expedite the development of software for RISC-V platforms.
What does HiFive Unmatched provide?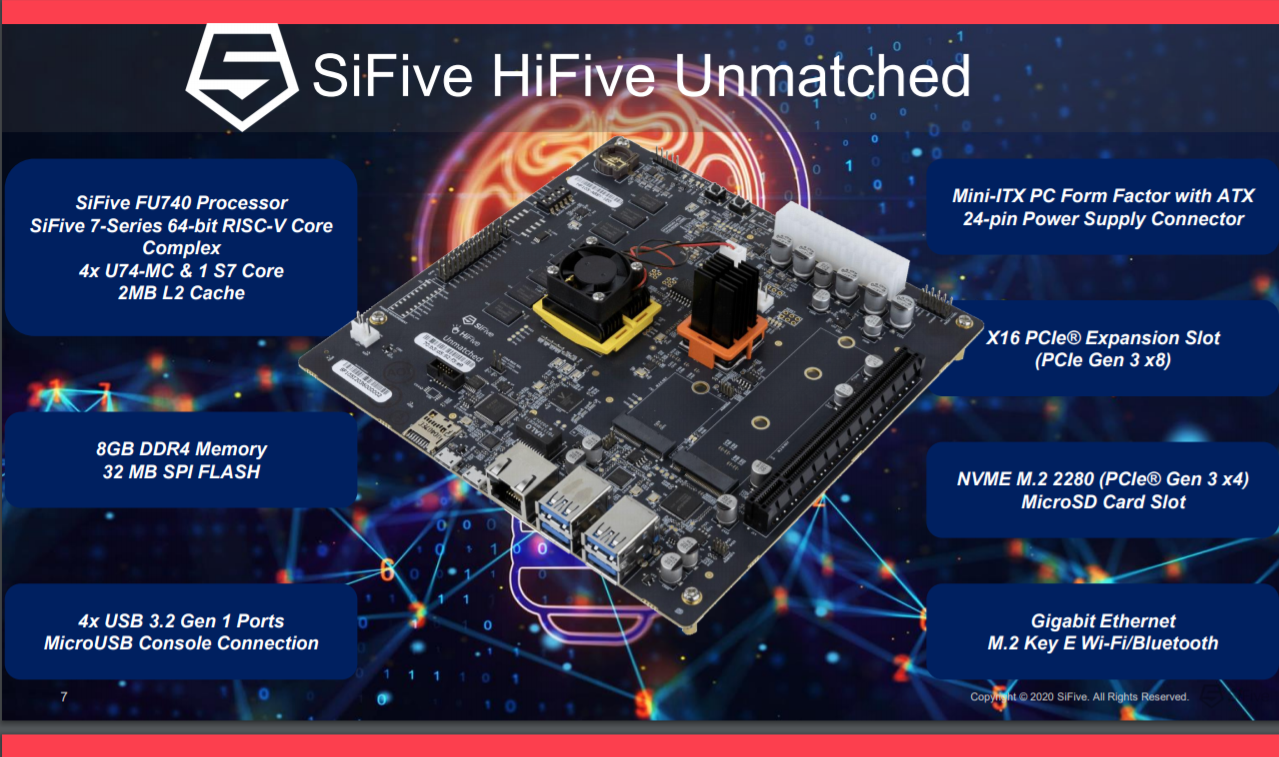 At its heart of the Mini-ITX form factor board is a SiFive FU740 SoC, which is built upon SiFive's 7-series 64-bit RISC-V CPU core. It has 8GB DDR4 memory (RAM) and 32MB SPI flash. There is a Micro SD card slot, plus an M.2 Key-M (PCIe Gen 3 x4 ) slot for a 2280 SSD. Also an M.2 Key-E (PCIe Gen3 x1) slot for a WiFi / Bluetooth module. In addition to which, a x16 PCIe Gen 3 slot with 8x usable lanes for expansion, e.g. adding a graphics card. Four USB 3.2 Gen 1 ports are provided, with one of these being a charging port.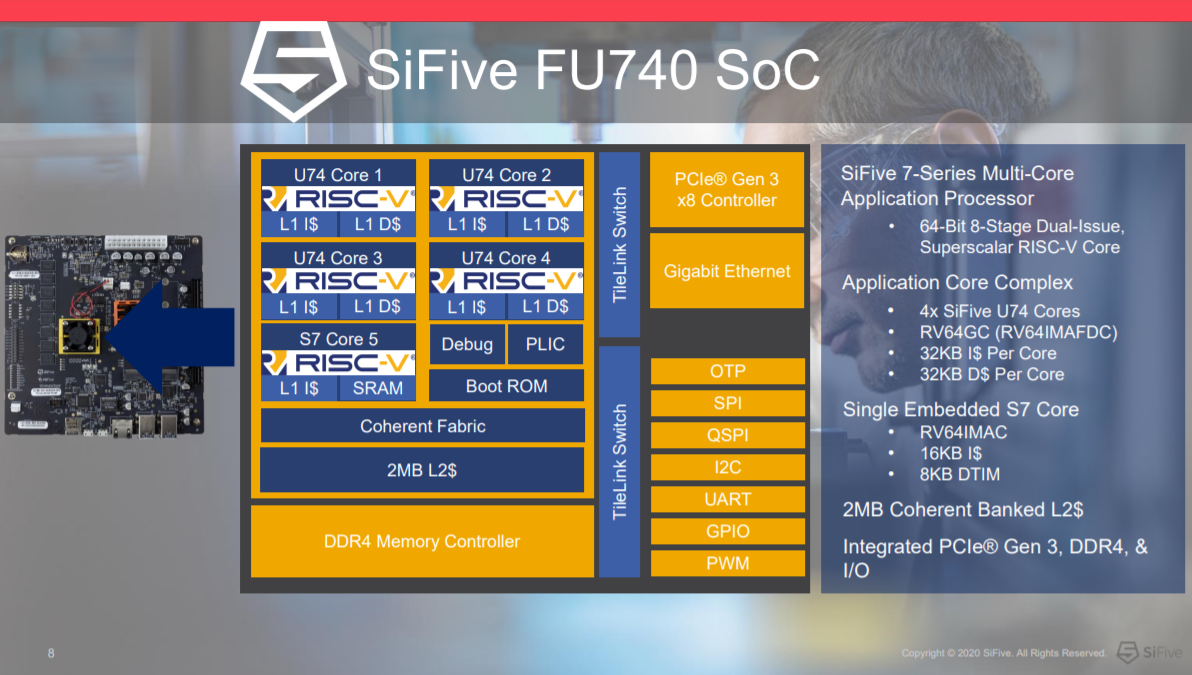 The SoC provides four U74 cores and one S7 embedded core, with a coherent 2MB L2 cache with a DDR4 memory controller. The SiFive 7-series core IP options are 64-bit RISC-V RV64GC, RV64IMAC, or 32-bit RV32IMAFC/RV32E ISA. When S2, S7, and U74 are combined in the SiFive FU740 using SiFive Mix+Match technology, the heterogeneous multicore complex offers a potent combination of application and real-time processing. HiFive Unmatched will come with 1.4 GHz clock frequency. We might even see Chrome and Android support in future.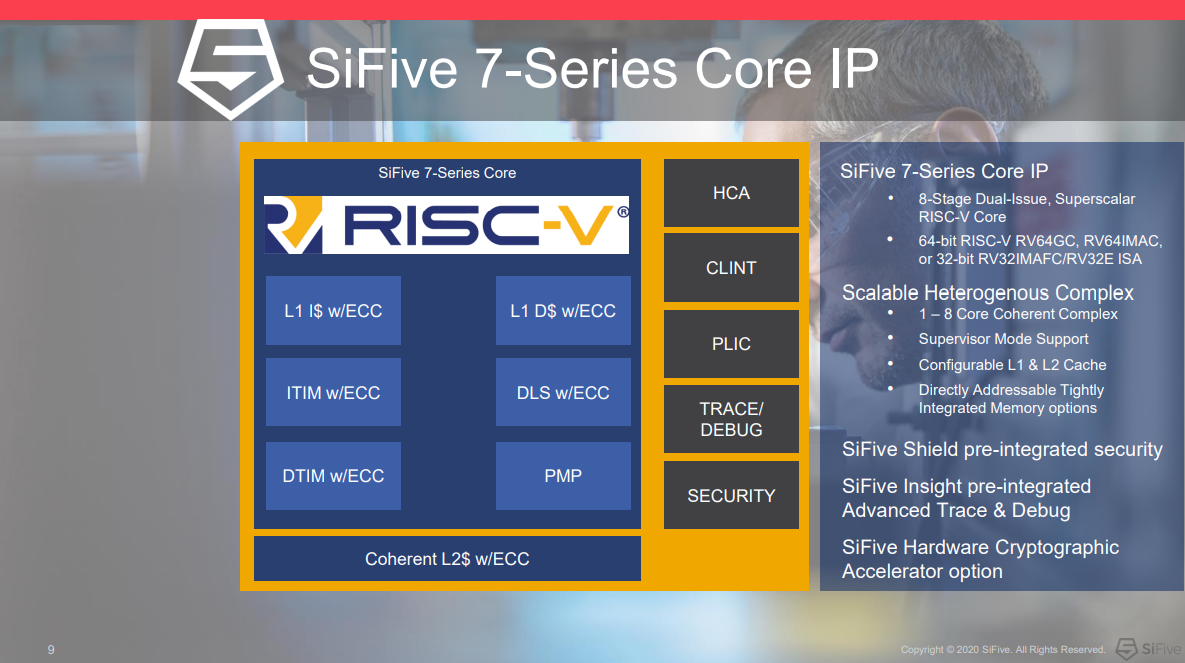 SiFive Freedom Unleashed SDK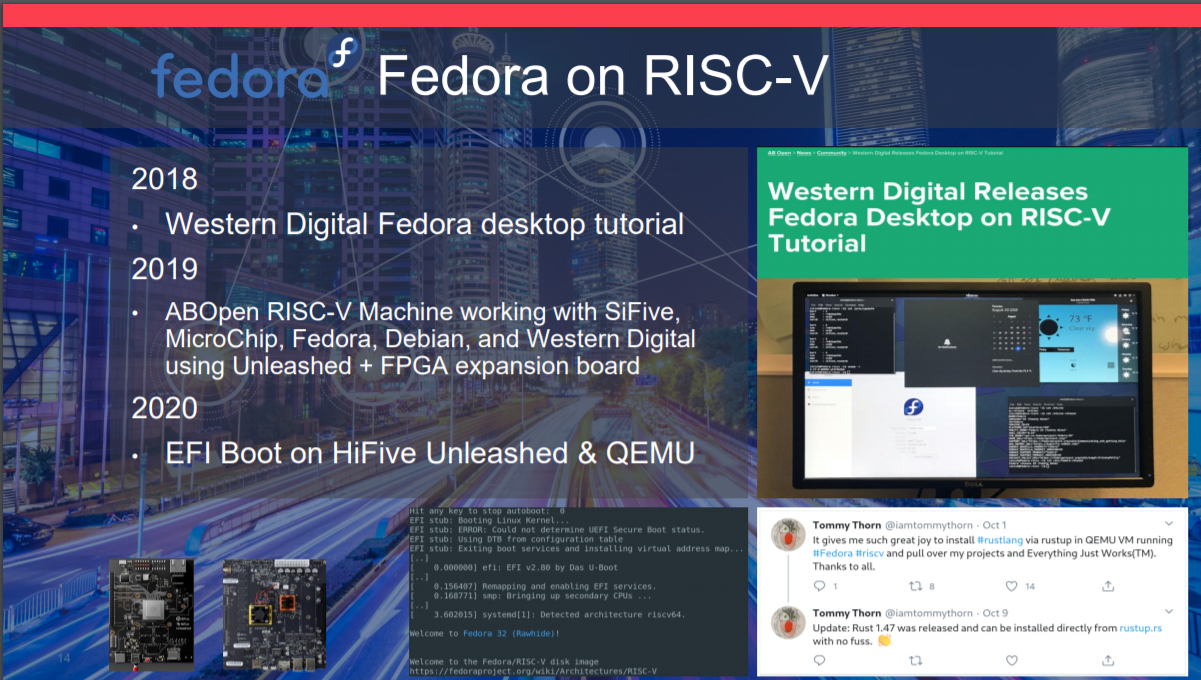 With the accompanying Freedom Unleashed SDK you can build your own custom Linux distribution. A tutorial was provided by Western Digital back in 2018 for using this to create a Fedora install that could be booted with the HiFive Unleashed board.
In 2019 AB Open demonstrated this with a system composed of the HiFive Unleashed together with its FPGA-based expansion board, plus aPCIe GPU and USB 3.0 controller. More recently EFI support for RISC-V has landed in Linux and has been verified working on HiFive Unleashed.
Accelerating the RISC-V Software Ecosystem
The HiFive Unmatched was announced at the Linley Fall Processor Conference 2020 and during the Q&A, I had the opportunity to ask the question, how much impact do SiFive see in the context of the RISC-V ecosystem? To which Dr. Yunsup Lee, CTO, and co-founder at SiFive, responded:
So initially the reason why we built the HiFive Unleashed board was to help develop the RISC-V software ecosystem. It exceeded my expectations of what the HiFive unleashed board would accomplish. As a matter of fact, the Linux distros even before the board when the QEMU support came online. It was almost a record speed at getting distros up in running. At the RISC-V workshop at BSC (Barcelona Supercomputing Centre), the distros' was already running on the board. A significant portion of the software was already running on the board.

Since then, people have been asking us to get hands-on the board, unfortunately for HiFive unleashed board we did limited production. So, we kind of meet all the demands, but despite all that, we have seen so many software bits and pieces come online on RISC-V. It's healthy already, but I can only speculate that the HiFive unmatched board will bring us to the next level and I think this board will be very important to the next 10 generations of the software ecosystem.
It will be exciting to see what future lies ahead for the HiFive Unmatched, which SiFive have stated will be priced at an eminently affordable $665 (USD), with availability by Q4'20.
Source: All images are taken from SiFive website and slides from Linley Fall Processor Conference.